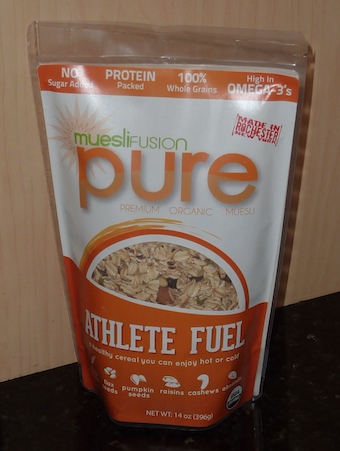 Next week is the biggest organic trade show of the year – Natural Products Expo West in Anaheim, CA – and I came to California early to visit a friend and to check out the newest organic restaurants in San Francicso. (Stay tuned to my blog over the next few days, as I have some great ones that I am going to be sharing with you!)
For food on my flight, one product that I brought with me was Muesli Fusion's Athlete Fuel.
I first discovered Muesli Fusion's Athlete Fuel at Natural Products Expo East 2012 in Baltimore several months ago when I stopped by the company's booth.
Right away, I was impressed with the product because it was hearty and filling. The product satisfied my hunger cravings, left me feeling very satiated, and was packed with plenty of Omega-3s from the nuts and seeds.
One of the things that I love about Athlete Fuel is that it contains no added sugar and the only sweetness comes from the organic raisins. (One of My Top 5 Organic Food Trends for 2013 was unsweetened products and this falls exactly into that category.)
Muesli Fusion's Athlete Fuel is a simple yet nutritious and delicious product, and is perfect to take with you on the road.
Overall, I am a huge fan and it is very difficult for me not to devour the whole bag in one sitting.
—-
Muesli Fusion's Athlete Fuel is available at retail locations nationwide and for purchase online.
The product contains all organic ingredients including rolled oats, raisins, almonds, flax seeds, cashews, pumpkin seeds, and rye flakes.