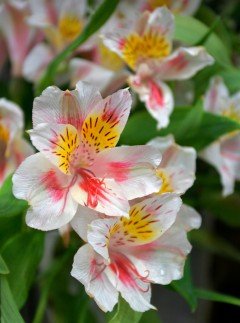 With Valentine's Day right around the corner, this is the time of year when we cannot forget to incorporate organic into our plans. And for sure, this includes flowers. Why?
Ginger Thompson, a great journalist for the New York Times, wrote a fantastic piece several years ago on the flower industry in Ecuador. The local workers, who are in desperate need of money, have little choice but to work for these companies and suffer the dire consequences of being exposed to the poisonous chemicals used on the flowers. They are getting sick but it is a question of illness or hunger.
Furthermore, the chemicals inevitably get into the soil and pollute the water supply.
It is a very, very sad situation, and there are no easy answers.
What we can do, however, is increase our consumption of organic flowers. If consumers demand organic, chemical-free flowers, growers around the world will change their ways or suffer economically. We need to create change with our wallets.
Valentine's Day is a huge day for the flower industry, and for those of us concerned about the environment and the well-being of our fellow citizens, organic flowers need to be just as important as organic apples or grapes.
Here are two flower companies, both of which are well-respected in the organic community, that can do next-day delivery for Valentine's Day