Even though I don't have kids (yes, 40 and still single. If my mother were still alive, she would not be happy in the slightest.), I always think about what I would feed them.
You can be sure of one thing, however. Come Halloween, they'd be getting organic.
As the end of October approaches, I've put together my Top 5 options for Halloween, both organic candy and organic food that is sweet and tastes like candy.
ANGELL ORGANIC CANDY BARS
I came across this product last week at the 2010 Natural Products Expo East Trade Show in Boston. Co-Founder Christopher Angell said it is the only certified organic and fair trade candy bar on the market. While there is a select number of other certified organic candy bars available, I haven't come across one that is fair trade as well.
The taste is rich, and the middle is soft and chewy. There are three flavors, one of which is vegan (Dark Angel) and one of which is gluten-free (Angel Crisp).
The bars are all available on Amazon – Click for the Angell Crisp, Snow Angell and Dark Angell.
ANNIE'S ORGANIC BUNNY FRUIT SNACKS
They look like Gummy Bears but have a softer and less chewy texture. Most importantly, it will be very difficult for kids to know that they are now eating something much more healthy.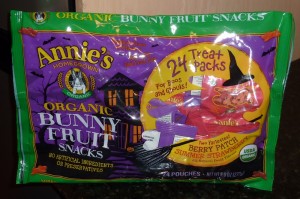 The large bag of Annie's Organic Bunny Fruit Snacks contains 24 small packs of fruit snacks that are all shaped like bunnies. The three flavors, strawberry, cherry and raspberry, are made with real fruit juice and contain 100% of Daily Vitamin C.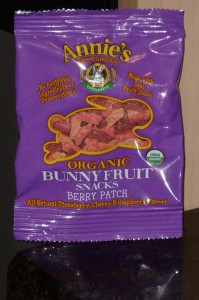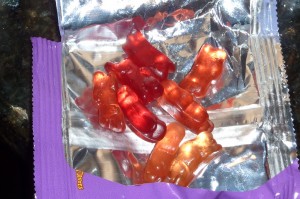 Click HERE for nutrition info and the product is available nationwide. Find a store near you.
YOGAVIVE APPLE CHIPS
This is another product that I discovered at the recent Expo East trade show. I told Beau Giannini, president of Yogavive, that " I almost didn't even approach the booth because the product looks super-processed and unhealthy."
He replied, "I am so happy that you said that. Our goal was to create a product that kids think is just like all the other stuff they are eating these days but one that is actually good for them."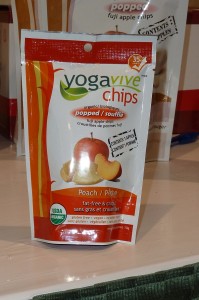 He also went on to tell me that many kids get teased about eating healthy, which was very surprising and yet not very surprising to hear. As an adult, my organic eating habits still rub some of my friends the wrong way.
Yogavive's fruit snacks contain fruit and that is it. For some of the flavored ones, they use all natural flavorings but only a small amount.
The product, made with certified organic fuji apples and no preservatives, is baked using a two-part drying process and then is popped to deliver a snack that is 100% fat-free and bursting with real apple flavor. The five flavors include: Original, Apple Cinnamon, Caramel, Peach and Strawberry.
For Halloween, the small 10g bags are ideal. Yogavive Apple Chips are available nationwide and click HERE for a store locator. They can also be purchased online.
YUMMY EARTH ORGANIC FRUIT LOLLIPOPS
I conducted a very small, unscientific focus group in my my office to test Yummy Earth Organic Fruit Lollipops. Within seconds of putting the watermelon lollipop in his mouth, tester #1 exclaimed "these things are AWESOME." I concur.
They come in four fantastic flavors: mango tango, pomegranate pucker, tooberry blueberry and wet-face watermelon. Each bag contains 15 lollipops.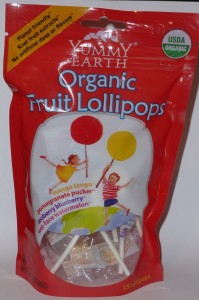 Once the testing concluded, I left an open bag out for everyone in my office to enjoy. I don't expect them to be around for long.
Yummy Earth Organic Fruit Lollipops are available nationwide and click HERE for a store locator. They can also be purchased online.
GO FUDGE BROWNIE
If you are looking to feed your kids something sugar-free yet completely decadent, then look no further than The Go Fudge Brownie. This may be one of the best brownie/chocolate snacks in the entire organic industry. I absolutely love it.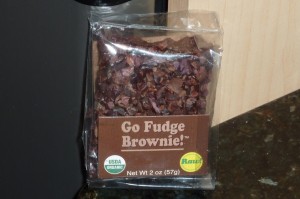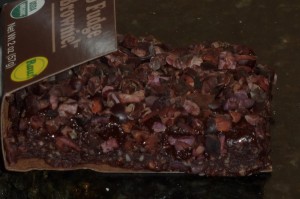 Parents will not believe that there is no sugar or dairy in this product. It is sweetened with agave and the other ingredients include almonds, cacao, cashews, vanilla and Himalayan salt. Furthermore, the Go Fudge Brownie is raw, which means that nothing has been heated above 118 degrees, and therefore retains all of the nutrients and enzymes.
This brownie is available at health stores/organic markets nationwide and online.
——-
Have a healthy and organic Halloween!