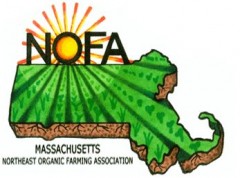 On Saturday, the Northeast Organic Farmers Association (NOFA) held its winter conference in Worcester, Massachusetts, and I was able to spend the afternoon at the event.
With so many great speakers and vendors, I didn't have time to see everything.  These were my personal highlights.
* Interview with Joel Salatin The keynote speaker and celebrity of the conference was Joel Salatin of Polyface Farms in Virginia.  If you saw Food, Inc., Joel was one of the stars and the organic farmer featured in the movie.  Over the past 25 years or so, he has authored six books and has been featured in nearly every major television and print media outlet.
I had the good fortune to interview Joel, and the video will be uploaded shortly.  As a huge fan of all things organic, getting a one-on-one with Joel was a big thrill.
Despite the fact that he is a media darling and somewhat of an icon in the organic world, he was incredibly humble and nice.  As I watched him interact with the big crowds of people, something became very clear.
Regardless of the non-stop media attention he receives, Joel is a true farmer.  He eagerly and enthusiastically engaged with all of his fellow farmers and answered every single question ranging from raising livestock to farm management.
* Currant Juice I learned about a farm in western Massachusetts called Bug Hill Farm, where they organically grow currants and bottle the juice concentrate.  I have had currant juice in the past but it was pretty watered down and filled with sugar.
Wanting to give it another shot, I bought two bottles of Bug Hill's black currant cordial and was very, very impressed.  I already have an order in to buy several more bottles.  Currants have some of the highest levels of anti-oxidants of any food available.
When I got home and drank the currant juice, two things came to mind.  1) This doesn't have the sugary taste that so many bottled juices have.  2) I know that what I am drinking is very good for me .
More to come on currants and Bug Hill Farm.
* Irish Sea Moss I am a big fan of sea vegetables, and dulse is on the Max Recommends list.  So, when I saw the She Sells Seaweed table, I immediately stopped by and engaged in a lengthy and interesting conversation with the owner, and then bought some kelp to take home.
Invariably, our discussion turned to Irish sea moss, a sea vegetable that is loaded with minerals and nutrients.  I was introduced to it a few years ago by John Schott, the owner and fantastic raw food chef at Lifefood Gourmet in Miami.
What I learned was that Irish sea moss is also harvested in Maine – a big surprise to me.  For some reason, I had some pre-conceived notion that it was only grown in Jamaica or Ireland.
Unlike many other sea vegetables, Irish sea moss is rarely seen in retail outlets but is widely available on the Internet.
Again, stay tuned for an upcoming video on Irish sea moss — how to prepare it and how I consume it.
* Organic Honey? Eager to get an update on the disappearing bee colonies, I had a conversation with the husband and wife team at Warm Colors Apiary.  It still appears to be a major problem but a lot more money and resources are being dedicated to find a solution.
They shared one piece of information that really surprised me.  Apparently, there is no organic honey produced in the U.S.  The reason for this is because there can be no way to guarantee that the neighboring properties, where bees may fly around, haven't been treated with chemicals.
In Canada, wide swaths of chemical-free land is dedicated for these bees and, therefore, organic honey can be produced and labeled as such.
I know that I have seen organic honey in supermarkets, so maybe it originated from Canada.  This is something that I will be researching further and I'll be reporting what I discover.
Naturally, I left the discussion with me buying a bottle of their Deerfield wildflower raw honey.
—–
Overall, it was a fantastic day at the NOFA conference.  It was packed – approximately 800 attendees — and the energy was palpable.
Unlike me, a consumer, the majority of the people there are the ones responsible for the great hormone-free and chemical-free food that I have the privilege of eating on a daily basis.
Farming is not an easy or glamorous business but I am grateful and appreciative for the hard work that these farmers do.
I very much look forward to NOFA's summer conference.  For more information, please visit www.nofamass.org.