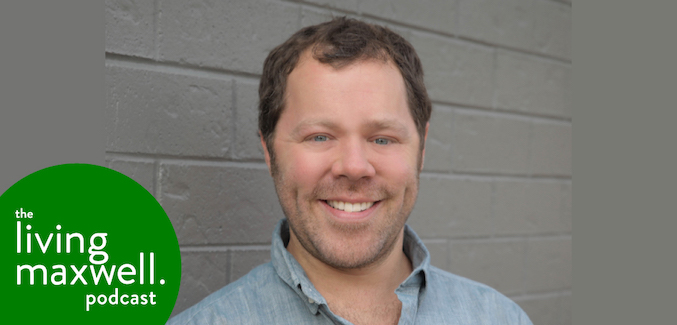 You can subscribe to the Living Maxwell podcast on: iTunes, Stitcher, Spotify, TuneIn and Google Play.
—
No one blinks when you now talk about buying organic food online.
However, this was hardly the case a decade or so ago when food was almost entirely purchased at some type of retail location.
And there may be very few people in the country that know more about selling organic food directly to consumers than Michael Joseph, who is the founder of three direct-to-consumer organic food companies.
His most recent startup, Green Chef, raised more than $70 million in venture capital funding and grew to become the country's leading organic meal kit service. Last year, Green Chef was sold to Hello Fresh, a publicly traded meal kit company, for an undisclosed amount.
In this wide-ranging conversation on The Living Maxwell Podcast, I spoke with Michael Joseph about how Green Chef got started, the company's incredibly rapid growth, his experience in raising tens of millions of dollars in flip flops (yes, it's true), how the company brought unique digital marketing experience to this sector, and whether the meal kit space is actually a viable business or not.
Despite its struggles as of late, including the poor performance of the Blue Apron IPO, the meal kit industry remains a real interest to many people, and there are very few individuals that can speak to the nuances of this sector better than Michael Joseph — an extremely dynamic, charismatic and successful organic food entrepreneur.
Please enjoy!
—
Resources and Notes from the Show
Michael Joseph – LinkedIn
Sponsor of this Episode
This week's episode of The Living Maxwell Podcast was sponsored by my friends at Intellipure. 
One of the least discussed but most dangerous threats to our health is ultrafine particles. These are the particles lurking in our homes but are not visible to the human eye. Unfortunately, they are also linked to cancer, cardiovascular disease and stroke.
There is no better air machine on the market to deal with ultrafine particles than the Intellipure, and I have been using this company's products years before I started writing about the organic food industry. In videos that I shot using a particle counter (a Class 1 medical device), I demonstrate the power of this machine versus two of the most widely known air filters on the market — the Dyson and the Molekule.
When you see the results, you will see why the Intellipure is the only machine I will use and that it delivers better results than anything else that you can find.
Living Maxwell readers can get 10% off an Intellipure — with a 30-day, money-back guarantee — by clicking HERE.
—-
Want to stay up-to-date on the most important news and products in the organic food world?
If so, please be sure to follow me on Instagram and sign up for my email list below.