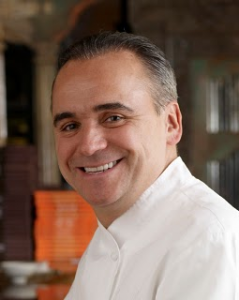 Yesterday, I went to Organic Avenue's store in the West Village and something pretty unexpected happened.
After drinking my shot of E3 Live, I sat on the bench outside and started gazing into the sun. Increasing my Vitamin D levels is a real priority these days.
As I was sitting there, Jean-Georges Vongerichten, one of the world's most famous chefs, walked by me and went into the store to return his glass bottles of juice. On his way out, I stopped him and asked him a few questions.
The one that immediately came to mind was whether Organic Avenue's pressed juice was now for sale in his restaurants. When I interviewed Denise Mari, founder of Organic Avenue, at Fashion Week a few months ago, she mentioned that they would soon be selling them there.
Jean-Georges confirmed that they are available at three of his restaurants, including ABC Kitchen, his fantastic upscale organic one, and that they are selling very well. I wondered whether he would eventually press the juice himself in-house but he said no. He appeared to be very happy with the current arrangement and didn't seem interested in dealing with the glass bottles.
I told him that I thought he did a fantastic job with ABC Kitchen and that I especially appreciated his water filtration system. We then started talking about water, my favorite subject, and how the quality of water that comes out of the pipes in New York City is not what people think it is.
Since this was an impromptu meeting, I didn't have a list a questions prepared in advance and I kind of froze on the spot. I wish I had asked him for a picture that I could have added to my collection of all the other organic food luminaries that I have met. But, no. I was not too quick on my feet yesterday.
My biggest takeaway from the brief conversation was this. Despite being as big of a rock-star as there is in the culinary world, Jean-Georges couldn't have been nicer or more gracious. I was really, really impressed.
It was a very cool Saturday for me in New York City and a review of ABC Kitchen is something that will be coming out soon.