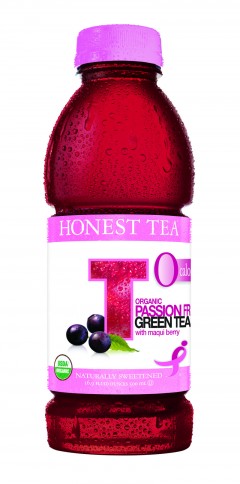 Just as I profiled Steaz several months ago with their initiative to empower women, Honest Tea has launched something similar. However, Honest Tea is doing this with a brand new and innovative product.
The company recently introduced Passion Fruit Green Tea with Maqui Berry. There are a few unique attributes to this drink.
– Most importantly, Honest Tea has partnered with the Susan G. Komen for the Cure and will be donating $100,000 in 2010 to this great non-profit. The limited-edition bottles have Komen for the Cure pink ribbons and caps.
Interestingly, the drink's central component is green tea.  Green tea contains powerful antioxidants, which help fight cancer.
– This is the first bottled tea that is made with organic stevia.
– Maqui berry is also included.  I have never had maqui berry but it is a South American super-food that has been reported to have higher levels of antioxidants than the acai berry.
The tea is now available in New York City and in the Mid-Atlantic region. Honest Tea will be rolling it out over the next few months and nationwide distribution will be in place by January.
Fantastic idea for a great cause!
——
I also love the fact that Honest Tea is blazing a new trail with the maqui berry.
While I don't know every drink on the market, I have never heard of tea that has this super-food. It will be interesting to see if this berry steals some thunder from the very popular acai.