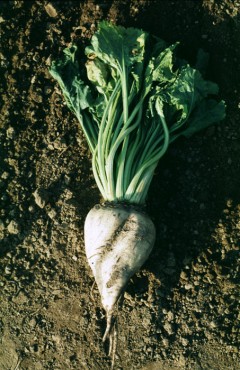 Only several weeks ago, the Supreme Court ruled against Monsanto in a very important case against genetically-engineered alfalfa.
On Friday, the organic movement secured another victory when a federal court ruled against the USDA in a case involving genetically-engineered sugar beets.
Despite the fact that GMO food wreaks havoc on the environment, the USDA has had no qualms about giving Monsanto approval to sell its Roundup Ready sugar beet seeds prior to an environmental study ever being completed.
When farmers buy Roundup Ready sugar beet seeds, they also must buy the Roundup Ready herbicide, the toxic chemical sprayed on the crops. Other Roundup Ready crops have led to increased use of herbicides, a  proliferation of herbicide resistant weeds, and contamination of conventional and organic crops. Furthermore, the chemicals pollute the local water supply and destroy the soil.
The USDA's behavior is totally reckless. Yet, it continues to cater to the needs of major agribusiness in this country and disregard what is best for the citizens it is supposed to protect.
Fortunately, we are lucky to have organizations such as the Center for Food Safety, Organic Seed Alliance and others who work hard on our behalf.
A full environmental study by the USDA is expected to be finished by 2012, and the results will be very interesting to see.
If maintaining the integrity of organic food is as important to you as it is to me, please support fantastic non-profits such as The Center for Food Safety. They are doing such critical for work for us.