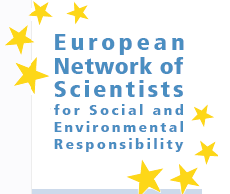 The first thing that GMO-apologists always do is attack the credibility of people in the organic industry.
They'll go after the Organic Consumers Association or people such as Jeffrey Smith, founder of the Institute for Responsible Technology, the leading source of GMO-information, and say that they lack scientific credentials to make any negative statement against GMOs.
However, they don't seem to go after individuals such as Don Huber, Professor Emeritus of Plant Pathology at Purdue University and among the most qualified scientists in the world to examine threats to America's food supply. (Dr. Huber has written a letter to USDA Secretary Tom Vilsack warning of the discovery of a new pathogen and a possible link between Roundup Ready® (GMO) corn and soybeans and severe reproductive problems in livestock as well as widespread crop failure. See videos below.)
And now they'll have another group of people that they probably won't go after either – the European Network of Scientists for Social and Environmental Responsibility (ENSSER), an organization that brings together independent scientific expertise to develop public-good knowledge for the critical assessment of existing and emerging technologies.
Just the other day, over 90 scientists, academics, and physicians from ENSSER signed a statement saying that there is "no consensus on GMO safety".
The group said "we strongly reject claims by GM seed developers and some scientists, commentators, and journalists that there is a "scientific consensus" on GMO safety and that the debate on this topic is "over".
"We feel compelled to issue this statement because the claimed consensus on GMO safety does not exist. The claim that it does exist is misleading and misrepresents the currently available scientific evidence and the broad diversity of opinion among scientists on this issue. Moreover, the claim encourages a climate of complacency that could lead to a lack of regulatory and scientific rigour and appropriate caution, potentially endangering the health of humans, animals, and the environment."
The group's main objections to scientific consensus include:
1) There is no consensus on GM food safety
2) There are no epidemiological studies investigating potential effects of GM food consumption on human health
3) Claims that scientific and governmental bodies endorse GMO safety are exaggerated or inaccurate
4) EU research project does not provide reliable evidence of GM food safety
5) List of several hundred studies does not show GM food safety
6) There is no consensus on the environmental risks of GM crops
7) International agreements show widespread recognition of risks posed by GM foods and crops
To read the group's detailed statement, click HERE. It is very compelling.
Also, check out the 5-part interview below that Dave Murphy, Founder of Food Democracy Now!, did with Dr. Don Huber, a plant pathology expert who has very, very serious concerns about the safety of GMOs.
For 50 years, Dr. Huber has been a scientist studying plant diseases in the U.S. and around the world and spent 35 years at Purdue University as Professor Emeritus of plant pathology. He has a 41-year military career as a retired Colonel, evaluating natural and manmade biological threats, including germ warfare and disease outbreaks. He also coordinates the "Emergent Diseases and Pathogens Committee" as part of the USDA National Plant Disease Recovery System under Homeland Security.

—
Want to learn about the most important news in the organic food industry?
If so, please Like my Facebook page and sign up for my newsletter.
To join my newsletter list, please enter your email below and I'll send you my Top 5 Inexpensive Ways to Shop Organic.