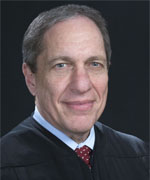 Does it make sense that we have to sue our government to get them to obey the law? No, of course not.
But that is what we have to do these days. The USDA is so controlled by Big Ag, biotech and pro-GMO companies that it will completely ignore the law in order to placate its very powerful constituency.
Here's what happened: In August, Federal District Judge Steven S. White (pictured) ruled that the USDA could not approve the planting of GE-sugar beets until an environmental review had been completed. Seeking to circumvent this ruling, the USDA's Department of Animal and Plant Health Inspection Service gave the green light for GE-sugar beet seedlings to be planted just one month later, in September.
The USDA completely and utterly disregarded the spirit of the ruling and of the law. As a result, The Center for Food Safety and Earthjustice filed a lawsuit, on behalf of farmers, consumers and conservation groups, to prevent this from happening.
Last week, Judge White agreed and ordered the immediate destruction of hundreds of acres of GE-sugar beet seedlings that were planted in September. It is very important that they were destroyed because they could have contaminated and ruined the integrity of nearby organic sugar beets.
This piece of news tells me two things:
1) It is very upsetting to know that we have to sue our own government to get them to obey the law and that the USDA continues to act as a rogue agency.
2) It is just another clear sign of how against organic food President Obama is. The people he has put in charge at the USDA simply follow his command and will do whatever it takes to promote the GMO agenda, even if it means blatantly disregarding a federal judge's ruling.
As I tell people all of the time, we cannot assume that organic food will always just be on the supermarket shelves. There are extremely powerful forces at work to extinguish organic food. Unfortunately, many of these powerful forces hold very important government jobs and are paid salaries by our tax dollars.
How can we help keep organic food on our dinner plates? By supporting organizations such as The Center for Food Safety.