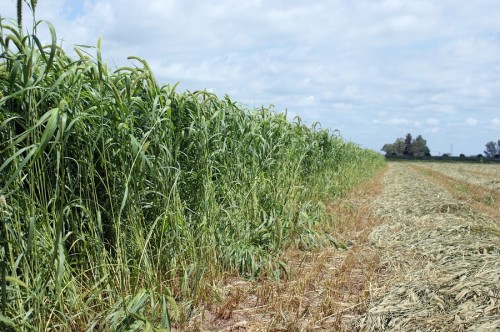 Last night, I interviewed Andrew Kimbrell, the Executive Director of The Center for Food Safety (CFS), a non-profit based in Washington DC.
The website says that CFS "protects human health and the environment by curbing the proliferation of harmful food production technologies and by promoting organic and other forms of sustainable agriculture."
In plain language, this organization battles the people who are polluting our environment and corrupting the integrity of our food supply.
What is important to note is that when CFS files lawsuits, it often succeeds.  This includes several victories against Monsanto and others.  Recent wins include: stopping GE sugar beets, halting GE crops in wildlife refugees, preserving r-BGH free labels on dairy products, and passing California law to protect farmers from the hazards of GE crops.
Andrew Kimbrell and his team are amazing advocates of organic food, and I cannot express how lucky we are to have such competent and committed people fighting for our cause in Washington.
The interview I shot with him will be up very soon, but I received an email from CFS today and wanted to share it immediately.
The organic food community is under serious attack from the USDA.  Yes, the USDA.  It is considering allowing GE alfalfa, which would have disastrous consequences for the organic food industry and the well-being of small and family farms.
Given that the Obama administration has appointed a litany of former Monsanto people to very high posts in the USDA and other branches of the federal government, these individuals are doing whatever they can to push the GE agenda.
We need to take action before March 3rd and please read below for all of the details.  You'll be shocked at how our government puts big agri-business ahead of the interests of its citizens.
——————
THE EMAIL FROM CFS ON 2/24/2010
Call your Senators and Representative today and say "USDA must not approve GE alfalfa!"
Monsanto wants to sell its genetically engineered (GE) alfalfa and wants the USDA to approve its permit application, but consumers, farmers, dairies, and food companies don't want GE alfalfa plants and seeds released into the environment.
USDA's Draft Environmental Impact Statement (DEIS) admits that if GE alfalfa is approved:
* GE Contamination of non-GE and organic alfalfa crops will occur
* GE contamination will economically impact small and family farmers
* Foreign export markets will be at risk due to rejection of GE contaminated products
* Farmers will be forced to use more toxic herbicides to remove old stands of alfalfa
Yet, unbelievably, USDA has decided that these impacts are insignificant! And, USDA intends to approve Monsanto's Roundup Ready™ GE alfalfa anyway.
Call your Congressional Representatives today and ask them to hold USDA accountable by contacting Secretary of Agriculture Vilsack and urging him to deny approval of Monsanto's GE alfalfa! Call the U.S. Capitol Switchboard: (202) 224-3121 and ask for your Senator/Representative's office. If you do not know who they are click here to look them up. Speak with the agriculture staff person or leave a message. Tell them that you DO NOT support the deregulation of GE alfalfa, for the following reasons:
* GE contamination of non-GE and organic crops would be inevitable
* You won't buy products that are GE-contaminated
* Alfalfa is a major food source for livestock and GE alfalfa would destroy the integrity of organic dairy products
* You support the rights of farmers to grow the crops of their choice, and GE contamination makes that impossible
* GE crops increase pesticide use, harming human health and the environment
* Ask your Representative and Senators to contact Secretary Vilsack and urge him to deny USDA approval of Monsanto's GE alfalfa
Then email us at info@truefoodnow.org and tell us who you called and let us know what kind of response you got!
BACKGROUND
In 2006, the Center for Food Safety (CFS) sued the Department of Agriculture (USDA) for its illegal approval of Monsanto's genetically engineered (GE) Roundup Ready alfalfa.  USDA failed to conduct an environmental impact statement (EIS) before deregulating the crop, as required by law.  An EIS is a rigorous analysis of the potential significant environmental, health, and economic impacts of a federal decision, mandated under the National Environmental Policy Act (NEPA).  The federal courts sided with CFS and banned GE alfalfa until the USDA fully analyzed the impacts of the GE plant on the environment, farmers, and the public in an EIS.
USDA released its draft EIS on December 14, 2009.  A 75-day comment period is now open until 3 March, 2010.  CFS has begun analyzing the EIS and it is clear that the USDA has not taken the concerns of non-GE alfalfa farmers, dairies, exporters, retailers or consumers into consideration in its recommendation to approve the commercial sale (deregulation) of GE alfalfa.  In fact, the EIS states that consumers don't care if their organic food is GE contaminated and neither do organic farmers, as long as farmers employ the organic practices required under the Organic Foods Production Act (OFPA).  Obviously, this is not true and we need to push our Congressional representatives to call upon USDA to deny the approval of GE alfalfa.
For more talking points and links to review the EIS and other documents, click here, or copy and paste this URL into your browser's address bar: http://ga3.org/cfs/EIScongress.html