On the first Wednesday of every other month, I have a column called Wednesdays at Whole Foods. It showcases the most interesting news, exclusive products, store events, and happenings at the company.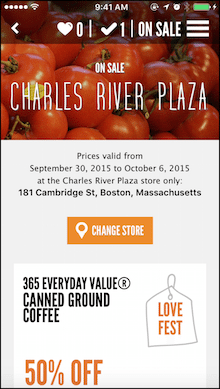 MOBILE READY
Just a few weeks ago, Whole Foods Market rolled out its re-designed app for iOS devices. It is intuitive, clean, and very useful.
New features and functions include:
* Instacart in-app integration
* 3,800+ recipes
* Shopping lists
* Supports Apple's new iOS9 Spotlight Search feature, enabling Whole Foods Market shoppers to search the recipe collection without having to open the app.
Without a doubt, however, my favorite part is the what's on sale feature. In a matter of seconds, I can see what is on sale in my local store. This is a great discovery tool as well.
To downloand the iOS app, click here.
INSTACART APPROVAL
It has been one year now since Whole Foods Market initiated a partnership with Instacart, which allows customers to purchase groceries online and have them delivered in as little as one hour. Read more »