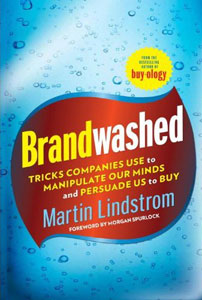 Recently, I received a copy of Martin Lindstrom's Brandwashed: Tricks Companies Use to Manipulate Our Minds and Persuade Us to Buy.
The reason that I wanted to read it was because Whole Foods was discussed in the book and I was curious to know what he had to say about the company.
As Martin Lindstrom correctly points out, Whole Foods is very strategic in how it merchandises its products. A few examples that he mentioned were:
– Putting flowers by the entrance. These are called "symbolics",  and they evoke freshness and "prime" us as we begin our shopping.
– All of the signs in the produce and fruit section are written on black slate with chalk, a tradition of European marketplaces. Apparently, marketers refers to this tactic as "farmgate", so that consumers think a farmer just drove up and dropped off the vegetables. Read more »