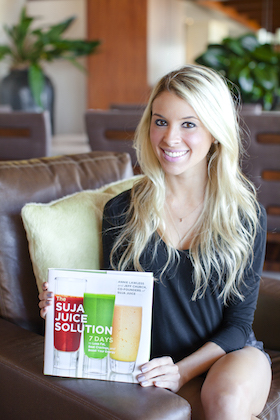 Before she became the one of the country's most successful juice entrepreneurs, Annie Lawless, co-founder of Suja Juice, suffered from awful eczema, allergies, chronic ear infections, asthma and Celiac disease during her teenage years.
Not surprisingly, all of the steroid creams, inhalers, and antihistamines that doctors gave her never provided much help.
So, Annie decided to take matters into her own hands and set out to completely revamp her entire lifestyle. Along with eliminating gluten and dairy from her diet, she became very serious about juicing, which provided her the nutrition that she was severely lacking.
This new approach to food resulted in clear skin, an improved mood, and more energy than she ever had before. And most importantly, all of her health problems disappeared.
The basis of Annie's turnaround serves as the foundation for her fantastic new book The Suja Juice Solution: 7 Days to Lose Fat, Beat Cravings, and Boost Your Energy. It is incredibly approachable, has a ton of great recipes and beautiful photography, and provides an easy-to-use framework for anyone to dramatically improve their physical and emotional well-being.  Read more »