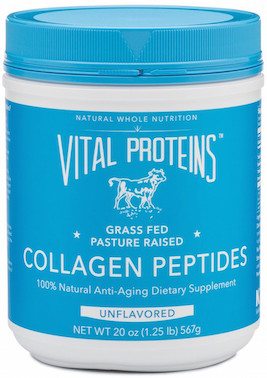 Very rarely do I write about supplements, but I came across one recently that I think is fantastic – Collagen Peptides from Vital Proteins.
And even though I have only been using it for a relatively short time, I am already noticing improvements in my hair, skin, and performance levels when working out.
First off, what is collagen and why does it help our body?
Collagen is the most abundant protein in our body and is found in our muscles, bones, skin, ligaments, blood vessel walls, and tendons. It comprises 30% of the protein in our overall body and 70% of the protein that makes up our skin. Collagen is essentially the "glue" that holds our body together.
Not surprisingly, as we get older, collagen production decreases. Poor dietary and lifestyle choices (processed foods, sugar, smoking, too much sun, chemical overload), stress, sickness and long-term strenuous exercise play a role in reduced levels in collagen as well.
So, if we think about collagen being that "glue" that holds our body together, we need to make sure that we are doing what we can to maintain collagen levels. When that "glue" weakens or decreases, we suffer from wrinkles, sagging skin, muscle soreness, and joint and muscle pain. Read more »