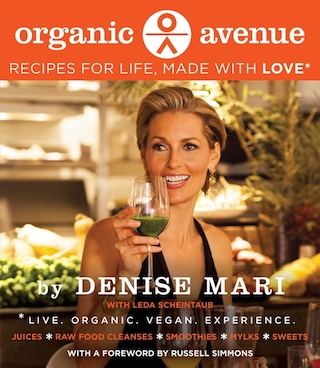 With pressed organic juice now experiencing tremendous popularity, it seems that everyone wants a piece of the action and entrepreneurs from all over the country are quickly jumping into the juice game.
Yet, one of the pioneers of this massive trend, Denise Mari, founder of NYC's Organic Avenue, was inspired by something other than money.
Having lost her younger sister to cancer at an early age, Denise quickly realized that she needed to live a life of real purpose and wanted to serve as an inspiration to other people.
Guided by the concept of ahimsa, which means "to do no harm", her vegan and raw food lifestyle eventually manifested itself as Organic Avenue, and it was her goal to share her knowledge with as many individuals as possible.
Now, the publication of her just-released Organic Avenue: Recipes for Life, Made with Love* (LOVE = Live, Organic, Vegan, Experience) will allow her to do just that and reach people well beyond the confines of New York City. Read more »