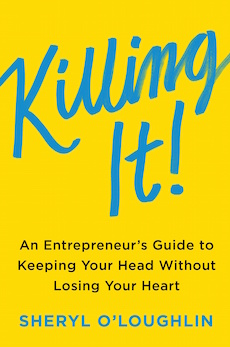 Serial entrepreneur Sheryl O'Loughlin has just come out with a phenomenal new book called Killing It: An Entrepreneur's Guide to Keeping Your Head Without Losing Your Heart, and it should be at the top of the reading list for all founders of organic food companies, regardless of whether you're in start-up mode or well on your way to generating $100 million in revenues.
Aside from the fact that Sheryl O'Loughlin has some serious street cred in the organic food industry – CEO of Clif Bar, Co-Founder of Plum Organics and now CEO of REBBL – and has plenty of experience to draw upon as an entrepreneur, this book focuses on the most important aspect of building a company that rarely gets discussed – the human element.
While strategy, branding, operations, and interfacing with customers are critical components of running a company, Sheryl has us look at the human emotions of being an entrepreneur and how it can be enthralling, debilitating and rewarding all at once.
Love, communication, support, honesty, presence, curiosity, self-reflection and radical self-acceptance must all be a part of the business journey. Yet, so many of us get caught up in the grind thinking that start-ups are nothing more than 16-hour days, rushing from to meeting to meeting, and pitching to investors. As a result, our health suffers and our companies do not thrive. Read more »