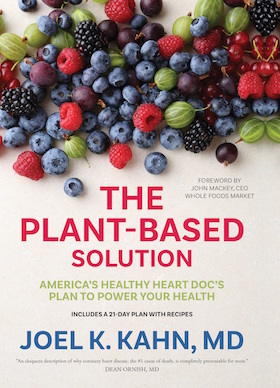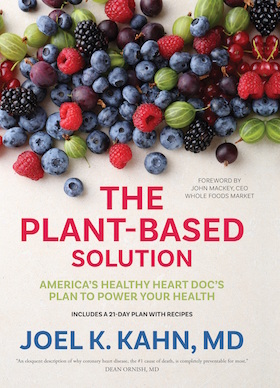 Last April, I was in Denver attending the National Organic Standards Board meeting and went to dinner one night at True Food Kitchen.
Sitting at a community table, I struck up a conversation with a woman across from me and she proceeded to tell me that she had recently switched to a vegan diet.
"So, do you know Dr. Joel Kahn? The cardiologist from Detroit," I asked.
Given that the plant-based world is a tight community and that Dr. Kahn is a social media star, I had a feeling that she might have known him.
"Do I know Dr. Kahn?" she responded with her face completely lit up. "He's the reason I am a vegan today! Everything he talks about online and in his books convinced me to go plant-based!"
With the release of his excellent new book The Plant-Based Solution, Dr. Joel Kahn is looking to make a similar impact on many more people.
I recently caught up with my friend, and here is what he had to say.
Numerous cardiologists that I have come into contact with lately are vegans, yet many prominent functional medicine doctors that I know do not advocate for a plant-based diet. They think eating meat is important. In your opinion, what are these doctors not understanding?
The functional medicine world is often stuck in the concept that a plant-diet is nutritionally deficient even though the USDA, AND, and other organizations say otherwise. Read more »