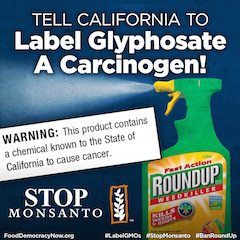 TODAY IS THE LAST DAY TO COMMENT – PLEASE TAKE ACTION IMMEDIATELY. 
Recently, the World Health Organization's International Agency for Review of Cancer declared that glyphosate – the primary ingredient in Monsanto's bestselling weedkiller Roundup – was a "probable carcinogen" and linked to cancer in humans.
Each year more than 280 million pounds of glyphosate are sprayed on farmers' fields across the country, and the U.S. Geological Survey has found glyphosate in more than 75% of air, rain and stream samples taken across the Midwest.
In addition to being linked to cancer, numerous studies have connected glyphosate with liver and kidney disease, and being responsible for wiping out more than 90% of the monarch butterfly population. Read more »