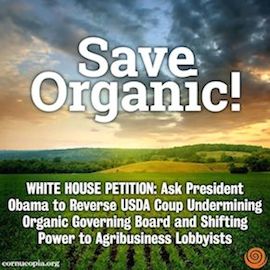 Despite the fact that organic is more popular than ever and companies such as Walmart and Target are significantly boosting their offerings, one would think that support for organic in Washington, D.C. would be growing as well.
Sadly, that is not the case.
Not only is support for organic not growing, the Obama administration and his USDA are doing everything they can to weaken organic standards and dismantle the authority of the National Organic Standards Board (NOSB), an independent, 15-member advisory board which helps to oversee the industry and make important recommendations.
THE SUNSET RULE
One of the most important policies that we have in organic is something called The Sunset Rule.  What this means is the following. Read more »