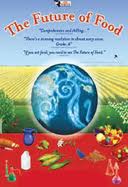 I just found out that there is a FREE online version of the very well-done documentary called The Future of Food, and I wanted to pass this information along ASAP.
If you have never seen this movie, please watch it as it is extremely important. It gives a very detailed review of how GMO-food evolved in our country and the tremendous danger that it presents to consumers, farmers and our entire planet.
As I have said many times before, the argument that GMO-food is the only way to feed the world is one of the most flawed arguments that I have ever heard. This is propaganda that the biotech industry and BigAg wants us to believe but is simply not true.
Three things in the movie that I want to point out: Read more »