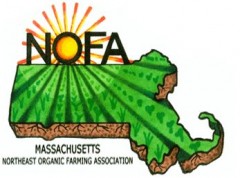 On Saturday, the Northeast Organic Farmers Association (NOFA) held its winter conference in Worcester, Massachusetts, and I was able to spend the afternoon at the event.
With so many great speakers and vendors, I didn't have time to see everything.  These were my personal highlights.
* Interview with Joel Salatin The keynote speaker and celebrity of the conference was Joel Salatin of Polyface Farms in Virginia.  If you saw Food, Inc., Joel was one of the stars and the organic farmer featured in the movie.  Over the past 25 years or so, he has authored six books and has been featured in nearly every major television and print media outlet.
I had the good fortune to interview Joel, and the video will be uploaded shortly.  As a huge fan of all things organic, getting a one-on-one with Joel was a big thrill. Read more »