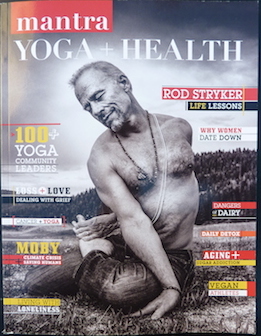 I've been fortunate to do many amazing things and meet a ton of inspirational people in 2014.
Yet, if I had to pick my highlight of the year, it is probably the article that I just wrote in Mantra: Yoga+Health magazine.
When the magazine first hit the stands, I vividly remember being hunched over in the aisle at Whole Foods Market in NYC's Union Square, absorbing every single word. What I felt after reading these few pages touched me in a way that nothing else had in a long, long time.
To be honest, my reaction really took me by surprise and I never imagined that I would be so overcome with emotion. Why was I so moved by this article?
I write blog posts all of the time that get shared throughout the world on the Internet. Additionally, I also have been lucky enough to have been profiled in The New York Times, CNN, Fox News, Bloomberg and many others major media outlets.
So, what was so special about this one? Read more »