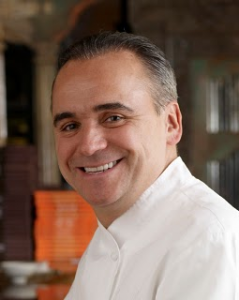 Yesterday, I went to Organic Avenue's store in the West Village and something pretty unexpected happened.
After drinking my shot of E3 Live, I sat on the bench outside and started gazing into the sun. Increasing my Vitamin D levels is a real priority these days.
As I was sitting there, Jean-Georges Vongerichten, one of the world's most famous chefs, walked by me and went into the store to return his glass bottles of juice. On his way out, I stopped him and asked him a few questions.
The one that immediately came to mind was whether Organic Avenue's pressed juice was now for sale in his restaurants. When I interviewed Denise Mari, founder of Organic Avenue, at Fashion Week a few months ago, she mentioned that they would soon be selling them there.
Jean-Georges confirmed that they are available at three of his restaurants, including ABC Kitchen, his fantastic upscale organic one, and that they are selling very well. I wondered whether he would eventually press the juice himself in-house but he said no. He appeared to be very happy with the current arrangement and didn't seem interested in dealing with the glass bottles. Read more »