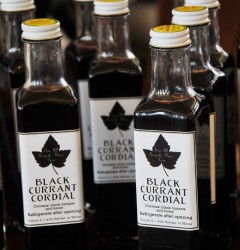 In the world of high antioxidant fruit juice, pomegranate, acai, grape and blueberry seem to get all of the attention.  Black currants, however, need to be in the discussion.
A few weeks ago when I went to the Northeast Organic Farmers Association winter conference in Worcester, MA, I had an interesting conversation with Kate Kerivan, the owner of Bug Hill Farm in Western Massachusetts. Bug Hill is a very small farm that organically grows black currants and bottles the juice.
I have seen currant juice in the supermarket from time-to-time but there are very few brands that offer it.  And, the ones that I have tasted before either weren't organic or just didn't make much of an impression.
So, when I spoke with Kate and tasted her product, my interest was piqued again.
The nutritional benefits of black currants never escaped me.  According to the research that I've seen, they have significantly higher levels of antioxidants than blueberries and have three times the amount of Vitamin C than oranges.
Furthermore, they are rich in a phytochemical called anthocyanidin, which has anti-aging and anti-inflammatory properties.
Kate filled me in on the story why black currants seem to be, well, so absent.
She said that "the federal government banned them in 1911 because the lumber industry claimed that currants contributed to a botanical disease known as White Pine Blister Rust.  In 1966, the federal government lifted that ban, and laws approving the growing of currants is now done on a state-by-state basis."
Kate also informed me that black currants are very popular in Europe, Scandinavia and New Zealand.  They take well to the New England climate and are great insect pollinators (bees love them).
Additionally, if you ever are drinking a Kir Royale, you are drinking champagne which is mixed with creme de cassis (a black currant liqueur).
Bug Hill Farm has been bottling black currant juice for two years and sells black currant spreads, marinades and chocolate sauces.
I have only tried the black currant juice, and the taste is smooth and tart.  I liked it so much that I ordered a few more bottles a week after the NOFA conference.  It comes as a concentrate, no water added, so it has to be diluted (roughly 3 to 1) in water, seltzer or alcohol.
For more information, please visit www.bughillfarm.org.